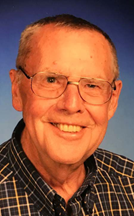 CEDAR FALLS -- Terry D. Wiebenga, 75, of Cedar Falls, died Saturday, Oct. 21, at UnityPoint Health-Allen Hospital in Waterloo.
He was born Nov. 28, 1941, in Galesburg, Ill., son of David and Claudia Smith Wiebenga. He married Peg Smith on Nov. 24, 2001, in Cedar Falls.
Terry attended Southern Illinois University in Carbondale, Ill., and also the University of Missouri in Kansas City. He served three tours of duty in the U.S. Air Force during the Vietnam War. Terry was a real estate broker and residential builder, retiring in 2012.
Survived by: his wife; a son, David (Nikki) of Lees Summit, Mo.; two stepsons, Corey (Brandy) Smith of Cedar Falls and Steven (Yvonne) Smith of Waterloo; four grandchildren, eight stepgrandchildren; and an aunt, Marian Hopkins of Galesburg, Ill.
Preceded in death by: his parents; a daughter, Tracey Potter, and a brother in infancy.
Services: 10:30 a.m. Friday, Oct. 27, at Nazareth Lutheran Church, Cedar Falls, with inurnment at Iowa Veterans Cemetery in Adel at a later date. Visitation will be from 4 to 7 p.m. Thursday. Oct. 26, at Dahl-Van Hove-Schoof Funeral Home and for an hour before services at the church.
Memorial fund: will be established.
Condolences may be left at www.DahlFuneralHome.com.