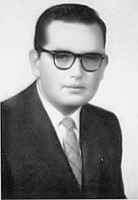 Williams Charles "Bill" Brown
1941-2007
GALESBURG — William Charles "Bill" Brown, 65, 255 W Tompkins St, died at 6:03 p.m. Friday, March 2, in OSF St. Francis Medical Center, Peoria.
He was born Nov 3, 1941, in Galesburg, the son of Emery and Dorothy Peterson Brown.
Surviving are a brother, Larry Brown. Galesburg, and 11 cousins. He was preceded in death by his parents and four cousins.
He was reared and educated in Galesburg. He attended Bradley University and stud­ied business administration.
He was a supervisor at Dick Blick for 20 years.
He was of Christian faith.
Service will be at 11 a.m. Tuesday in the United Church of Oneida Presbyterian Build­ing, with the Rev Carolyn Weber officiating. There will be no visitation. Burial will be later in Oneida Cemetery. Hurd-Hendricks Funeral Home and Crematory, Oneida, is in charge of arrangements.
Memorials may be made to the family.
Online condolences may be made at www.hurd-hendricksfuneralhome.com.