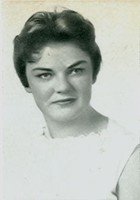 KNOXVILLE — Margo A. White Brodrick
KNOXVILLE — Margo A. White Brodrick, 54, 885 Sunnyview Ave., died at 2:25 p.m. Tuesday (March 5, 1996) in Galesburg Cottage Hospital of natural causes. She was born Nov. 8, 1941, in Galesburg, the daughter of Richard A and Violamae Johnsen Crouse.
She married Roger W. White on March 26, 1960, in Galesburg. He died Oct 30, 1979. She married Raymond Brodrick on Jan. 9, 1982, in Knoxville.
Surviving are her husband; seven sons, William R. White, Bloomington, Richard A White, Knoxville, Rodney W. White, Peoria, Robert W. White, St. Louis, Mo., Michael Brodrick, New Port Richey, Fla., and Raymond Brodrick and Rich­ard Brodrick, both of East Peoria; one daughter, Michelle Smith, New Port Richey; one brother, Larry R. Crouse, Wataga; one sister, Mary Purchase, Galesburg; and 15 grandchildren.
She was reared in Galesburg, and was graduated from Galesburg High School in 1959.
She owned and operated R. W. White Trucking and Carlson Serv­ices, both of Knoxville. She also was a bus driver for Knoxville School District 202.
She was a member of Grace Lu­theran Church.
Funeral will be at 11 a.m. Friday, in Grace Lutheran Church, with the Rev. Michel D. Clark offici­ating. Visitation will be from 6 to 8 p.m. Thursday in Hurd-Hendricks Funeral Home, Knoxville. Burial will be in Oak Lawn Memorial Gardens, Galesburg.
Memorials may be made to Grace Lutheran Church and to Community Hospices of America.