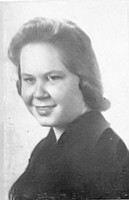 HENDERSON - Sally J. Hankins, 60, Henderson, died at 8:37 p.m. Thursday (June 14. 2001) in OSF St. Mary Medical Center. Galesburg.
She was born April 26, 1941, in Galesburg, the daughter of Ralph and Helene Norquist Duncan.
She married Rex Sallee in 1961 in Galesburg. They were divorced. She married Gerald Hankins in 1989 in Galesburg.
Surviving are her husband; three sons, Jeff Sallee, Lynn Center, Scott Sallee and Todd Sallee, both of Galesburg; two stepsons, Mike Hankins and David Hankins, both of Baltimore, Md.; one daughter, Susan Davis, North Henderson; one stepdaughter, Anne Marie Hankins, Baltimore, Md.; one sister. Verla Lashbrook, Galesburg; eight grandchildren; and seven step-grandchildren.
She graduated from Galesburg High School in 1959.
She was a homemaker and had lived in the Galesburg, Henderson, Gerlaw and Coldbrook areas.
She was an active member of Coldbrook Christian Church and Parents without Partners. She also attended Grace Episcopal Church in Galesburg
Friends may call from 6:30 to 8 p.m. Tuesday in Hinchliff- Pearson-West Galesburg Chapel. No service is planned.
Memorials may be made to the Diabetes Foundation.