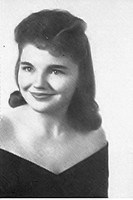 CHRISTINE LUKER
GALESBURG - Christine "Chris" Luker, 44. 987 Greenleaf St., died Sun­day (Aug. 18, 1985) at 9:18 p.m. in Methodist Medical Center. Peoria.
She was born in Galesburg July 31, 1941. She married Charles J Luker in Galesburg May 20. 1961.
Surviving are her husband. her mother, Mildred Johnson, Galesburg, one son, Jeffrey Luker, Ft Ord. Calif, two daughters. Kimberly Ann Luker, Ft. Bragg, NC., and Dawn Christine Luker, at home; three brothers. Bud Johnson and E. R. Johnson Jr., both of Galesburg, and Dick Johnson. Miami, Fla.; four sisters, Evelyn Ellison, Erlyne Hagerty and Jane DeWeese, all of Galesburg, and Patricia Henry, Vic­toria, and one grandchild.
She lived in Galesburg all her life and was a 1959 graduate of Galesburg High School
Private family service will be Wednesday in Hinchliff-Pearson-West Chapel, the Rev. James Christian of­ficiating. Burial will be in East Linwood Cemetery. There will be no visitation.
Memorials may be made to the American Red Cross Transportation Program, the family said.