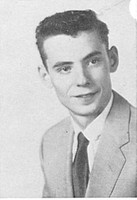 Harry E. Lawrence Sr.
Davenport, Iowa - Harry Eugene Lawrence Sr., 56 Davenport, died Wednesday (May 21, 1997) in Trinity Medical Center, East Moline, Ill.
He was born on Aug 28, 1940, in Galesburg, Ill., the son of Charles R. and Leila M. Jacobs Lawrence.
He married Sharon L Bryant on June 26, 1957, in Davenport.
Surviving are his wife, three daughters. Victoria DeAnda and Doris Thiessen, both of Davenport, and Robin Eidson, Peoria III., one son, Harry Lawrence Jr. Davenport, one sister, Mary Hobbs, Galesburg, three brothers, Charles Lawrence Jr., and Richard Lawrence, both of Phoenix, Ariz., and Dean Lawrence, Denver, Colo., seven grandchildren, four step grandchildren and one great grandchild. He was a preceded in death by his parents.
He was a tooling technician for Caterpillar Tractor Co., Peoria.
Funeral will be at 11 a m Saturday in Cunnick-Collins Mortuary Chapel, Davenport, where visitation will be 5 to 8 p m Friday. Burial will be in Pine Hill Cemetery, Davenport.