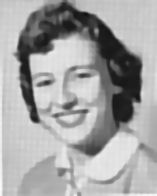 KNOXVILLE - Nancy Carol Marquith, 55, a resident of the Knox County Nursing Home, 800 N. Market St., formerly of Oneida, died at 2:49 p.m. Thursday (March 6, 1997) in the nursing home.
She was born April 4, 1941, in Galesburg, the daughter of Albert and Marjorie Driffil Nelson.
Surviving are two sons, Troy A. Marquith, Knoxville, and Tod Marquith, Beach Park; two brothers, Roger Nelson, Canton, and Ron Nelson, Ipava, and four grandchildren.
She was graduated from Galesburg High School; in 1959, and from Carl Sandburg College in 1986.
She was a secretary at Galesburg Cottage Hospital for 13 years.
Funeral will be at 10 a.m. Monday in Hinchliff-Pearson-West Chapel, Galesburg, with the Rev. Michael Mackenzie officiating. Visitation will be from 6:30 to 8 p.m. Sunday at the funeral home. Burial will be in Knoxville Cemetery, Knoxville.
Memorials may be made to the family.