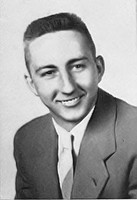 RICHARD L. NICHOLS
Funeral for Richard L. Nichols 37, of 187 Walnut Ave, will be Tuesday at 10 a.m. at Hinchliff-Pearson-West Chapel, with Rev. Carlton G. Christenson, pastor of First Baptist Church, officiating.
Mr. Nichols was found dead Saturday afternoon west of Galesburg, the apparent victim of a self - inflicted gun­shot.
Burial will be in East Linwood Cemetery. Friends may call at the funeral home today from 7 to 8:30 p.m.
Mr. Nichols was born In Galesburg, Dec. 20, 1940, and married the former Sharon Guardalabene here In August 1959. They were divorced.
He attended First Baptist Church, and was a member of Alpha Lodge, AF & AM. He was employed by J. P. Benbow Plumbing and Heating Co.
Surviving are a son, Gregg of Galesburg; his parents, Mr. and Mrs. Everett L. Nichols. Galesburg; a brother, David M., Rockford, and two sisters, Mrs. Dean (Helen) Bair, Knoxville, and Mrs. Alvin (Donna) Rose, Galesburg.
Mr. Nichols was graduated in 1959 from Galesburg High School, when he was a member of the varsity basketball team.