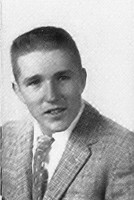 HERMON - James Richard "Dick" Clarke. 70. Mention, died at 9:35 a.m. Thursday, March 24, 2011, at OSF St. Mary Medical Center Emergency Room.
He was born Jan. 27, 1941, in Galesburg, the son of Orville and Ruth (Murk) Clarke. He married Joyce Elaine VanDusen Sand­man on Nov. 29. 1969, in Galesburg. She preceded him in death Nov. 24. 1986. He also was pre­ceded in death by his parents and a stepdaughter, Cheryl Johnson.
Surviving is one daughter, Tracy (and David) Weaver of rural Abingdon; two step children, Shelley Sand­man and Mark (and Rita) Sandman, both of Galesburg. six grandchildren; six great-grandchildren; one sister, Dorothy Rich of Englewood, Fla.; his best friend, Richie Wells of Galesburg; three aunts, and several cousins.
Dick had lived in the Lake Bracken, Abingdon and Hermon areas most of his life. He gradu­ated from Galesburg High School in 1959. He served in the Marine Corps during the Viet­nam War. He was a con­struction worker for the Knox County Highway Department. His hob­bies included hunting, fishing and running dogs.
He was a member of the Galesburg Kingdom Hall Congregation of Jehovah's Witnesses.
Funeral will be at 2 p.m. Monday, March 28, at Hinchliff Pearson-West Abingdon Chapel. Adrian Dillin will offici­ate. Visitation will be one hour before the service Monday at the cha­pel. Military rites will be conducted by Harry E. Wiles American Legion Post 381. Cremation will be accorded after the service and private burial will be later in Abingdon Cem­etery.
Memorials may be made to a charity of the donor's choice. Online condolences may be made at
www.h-p-w.com.