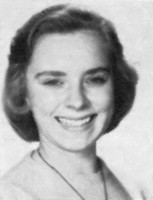 Beverly N. Patton
GALESBURG — Beverly N. Pat­ton, 54, 529 Scotch Elm Lane, died at 10:57 a.m., Saturday (Jam 20, 1996) in Cottage Hospital.
She was born April 15, 1941, in Galesburg, the daughter of Virgil and Dorothy Norris White.
She married Michael J. T. Patton on Sept. 19, 1963, in Coldbrook.
Surviving are her husband; one son, Mi­chael J. P. Pat­ton, Nashville, Tenn.; three brothers, John White, San Jose, Calif., and Daryl White and Quentin White, both of Galesburg, and two sisters, Mer­cedes Inman, Bloomington, and Mary Kennedy, Wataga.
She worked in retail and was a homemaker.
Funeral will be at 11 a.m. Wednesday in Hinchliff-Pearson- West Chapel, with the Rev Jeff Barclay officiating. Visitation will be from 7 to 8:30 p.m. Tuesday at the funeral home. Burial will be in Memorial Park Cemetery.
Memorials may be made to the Knox County Humane Society and to a charity of the donor's choice.