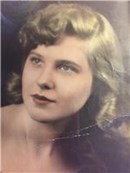 ABINGDON - Karen K. Quinn, 75, of Abingdon, passed away at 4:05 p.m. Saturday, July 23, 2016, at the Care Center of Abingdon.
She was born June 17, 1941, in Galesburg, the daughter of Donald and Genevieve Johnson Lithander. She married Ronald E. "Fish" Quinn, Sr. on Oct. 12, 1963 in Abingdon. He preceded her in death on March 9, 2010. She was also preceded in death by her parents, and one stepson, Ronald E. "Rock" Quinn, Jr.
Karen is survived by one son, Thomas L. (Debbie) Keith, Sr., "The Bug Man", of Abingdon; one daughter, Sherri (Danny) VeNard of Kewanee; one stepdaughter, Ronda (Ronald) Spicher of Galesburg; 13 grandchildren and several great-grandchildren; one brother, Dennis (Susan) Lithander of Lansing, Michigan. She is also survived by her loving poodle dog, Casey.
Karen graduated from Galesburg High School in 1959. She worked at Blue Bell Manufacturing in Abingdon, Protexall in Galesburg and she later worked at Admiral/Maytag in Galesburg for 30 years, retiring in 1999. She attended Abingdon Christian Church. She collected angels. Karen enjoyed attending St. Louis Cardinals baseball games with her husband and going to Las Vegas with Connie and Dennis Grider.
As she requested, cremation will be accorded. Graveside service will be held at 10 a.m. Wednesday, July 27, 2016, at Abingdon Cemetery. Mrs. Eleanor Landon will officiate. A time to continue celebrating Karen's life will be held at the Abingdon American Legion following the graveside service.
Memorials may be made to the John Mosser Public Library.