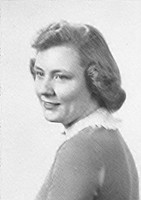 GALESBURG — Linda L. Connour, 57, 1416 Rock Island Ave., died at 12:35 p.m. Friday (Jan. 22, 1999) in Heartland Health Care Center, 280 E. Losey St.
She was born Aug. 11, 1941, in Galesburg, the daughter of Harry S. and Ione Nichols Anderson.
She married Carl E. Connour on Oct. 12, 1962, in Galesburg.
Surviving are her husband; her mother, of Galesburg; two sons, Dan R. Connour and Bradley E. Connour, both of Galesburg; one sister, Marsha Dykeman, Morton, and one nephew, Jason Dykeman, Galena.
She lived in Galesburg all her life. She was graduated from Galesburg High School in 1958.
She was a homemaker.
She was a member of Bethany Baptist Church.
A private family graveside service will be held Tuesday in Oak Lawn Memorial Gardens, with the Rev. John Carlson offi­ciating. No visitation is planned. Hinchliff-Pearson-West Funeral Home is in charge of arrangements.
Memorials may be made to an education fund for her son, Bradley E. Connour.