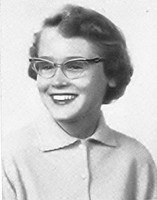 Nancy A. Nelson
WATAGA - Nancy A. Nelson, 53, 457 Knox Road 2200N, died at 9:20 p.m. Saturday (Feb 11, 1995) in St. Mary Medical Center, Galesburg.
She was born May 31, 1941, in Galesburg, the daughter of H. LaVerne and Esther W. Nelson Carlson.
She married Gene A. Nelson on April 9, 1961, in Galesburg.
Surviving are her husband; her parents, of Galesburg; one son, David A. Nelson, Henderson; two daughters, Lori A. Weaver, Ramsey, Minn., and Diann L. Green, Chicago; two brothers, Dale C. Carlson and Kenneth L. Carlson, both of Galesburg, and two grandchildren.
She was graduated from Galesburg High School in 1959.
She worked at the former Fidelity Federal Savings and Loan Association in Galesburg.
She was a member of Trinity Lutheran Church, Galesburg, its Rachel Circle and the Henderson Volunteer Fire Department Auxiliary.
Funeral will be at 10 a.m. Wednesday in Trinity Lutheran Church, with the Revs. Knight Wells and Tom Larsen officiating. Visitation will be from 7 to 8:30 p.m. Tuesday at Hinchliff-Pearson-West Funeral Home, Galesburg. Burial will be in Henderson Cemetery.
Memorials may be made to Trinity Lutheran Church and the American Cancer Society.