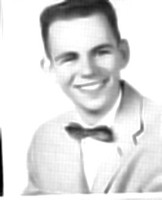 Mr. Paul E. 'Gene" Frambes 60, of 1055 S. Chambers St. Galesburg, IL, died at 4:07 PM Saturday January 26, 2002 at Methodist Medical Center, Peoria, IL.
He was born on April 8, 1941 in Galesburg to Paul C. and Myrtle (Walker) Frambes. He married Marian Johnson in Galesburg. He then married Charlotte M. Bell in Galesburg. She survives.
Also surviving are a son, David (and Kelly) Frambes of Chenoa, IL, a daughter, Jill (and Tony) Hahn of East Peoria, IL, two step-sons, Clyde Charles and Doug Charles, both of Galesburg, IL, three grandchildren and four step-grandchildren.
He was a production assembler at Maytag for 19 years. He also worked at Butler Manufacturing for 13 years. He served in the Navy for two years and the Naval Reserves for six years.
His funeral will be 3:00 PM Wednesday January 30, 2002 at Hinchliff-Pearson-West Galesburg Chapel with Rev. Jeffrey Barclay officiating. Visitation will be from 2:00 P.M. to 3:00 P.M. Wednesday at the Chapel. Memorials may be made to OSF Hospice