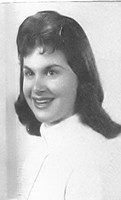 GALESBURG - Judith Ann Hirshfield Ralls, 47, Plainview, Texas, formerly of Galesburg, died Friday at 10:50 a.m. in Methodist Hospital, Rochester, Minn.
She was born in Galesburg on June 17, 1941. She was the daughter of Theodore "Ted" and Elizabeth Benson Hirshfield. She married Harold Ralls in Chicago on April 10, 1961.
Surviving are her husband; her parents, of Champaign; two daughters, Tanya Eaves, Tampa, Fla., and Kelly Ralls, Amarillo, Texas; two brothers, Curtis Hirshfield, Galesburg, and Steven Hirshfield, Albuquerque, N.M., and two grandchildren.
She was graduated from Galesburg High School in 1959. She lived for the past three years in Plainview, where she worked as a counselor for New Life.
Funeral will be Tuesday at 11:30 a.m. in Hinchliff-Pearson-West Chapel, where friends may call Monday from 7 to 8:30 p.m. Burial will be in Oak Lawn Memorial Gardens.
Memorials may be made to Liver Transplant Research, Mayo Clinic, Rochester, Minn, the family said.