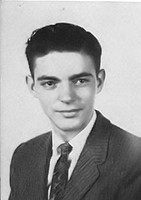 Leonard O. Livingston
BRIDGETON, Mo. - Leonard Otis Livingston, 57, Bridgeton, died at 9:25 a.m. Sunday (Oct. 4, 1998) in DePaul Health Center here.
He was born Oct. 4, 1941, in Monmouth, Ill., the son of Robert O. and Lucille Waggoner Livingston.
He married Elda Mahan.
Surviving are his wife; his mother, in Galesburg, Ill.; two sons, Brian Livingston, Phillipsburg, and Mark S. Livingston, Chesterfield; two stepdaughters, Monica Ransom, Florissant, and Christa Barker, Boston, Mass.; one brother, Warren Livingston, Columbia; one nephew, and one niece. He was preceded in death by his father.
He was reared and educated in Dallas City, Princeville and Galesburg, Ill. He was graduated from Galesburg High School and received bachelor's and master's degrees in education from Western Illinois Univeristy, Macomb.
He taught in Litchfield and LaHarp, Ill., before moving to Hazelwood, Mo., where he taught physics and science for 25 years before retiring.
He wa a member of Hazelwood Baptist Church.
Funeral will be at 9 a.m. Wednesday in Hazelwood Baptist Church, with the Rev. Richard Rhea officiating. Visitation will be from 2 to 8 p.m. today at Hutchens Mortuary, Florissant. Burial will be at 3 p.m. Wednesday in Oak Lawn Cemetery, Galesburg.
Memorials may be made to Hazelwood Baptist Church Building Fund and to the Muscular Dystrophy Association.