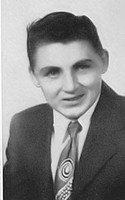 MONMOUTH – An 18-year-old Cameron youth, who had been on crutches most of his life, died Thursday night in Warren County's 13th highway fatality of the year, and the driver of the car in which he was riding has been charged with reckless homicide.
Joseph Meredith of Cameron, who was graduated from Galesburg High School last June, was pronounced dead on arrival at Monmouth Hospital after a one-car accident on the Cameron road, a mile east of the junction of U. S. 34 and Ill. 67. The accident occurred at 7:15 p.m.
Driver of the ear was James LeRoy Johnson, 17, also of Cameron. He is reported in fair condition today at Monmouth Hospital, where he is being treated for a cracked collarbone and minor abrasions.
Slate troopers from Macomb and Warren County sheriff's officers gave this account of the accident which led to Meredith's death and the charges against Johnson.
110 MPH
Johnson was driving west on the Cameron blacktop. His speed, he said when he crossed the railroad track two miles from the scene of the accident, was 110 miles per hour.
A check with a Monmouth wrecker service disclosed the speedometer of the Johnson auto had not been damaged in the wreck, and the speed of the vehicle at the time of the accident was not registered.
The driver said he saw another car cross the intersection ahead of him and was afraid he was going to hit it, police said.
State police today told the Galesburg Register Mail, the other car had plenty of clearance time and that his fear of collision was unfounded.
Johnson, according to police, applied the brakes. His 1957 Ford went into a slide, leaving a 315 foot skid mark.
The auto went out of control and left the highway, tearing down a fence and two of its posts, and stopped in a cornfield without overturning. The car was damaged extensively.
Neither occupant was thrown from the vehicle.
Driver of the auto which crossed the intersection ahead of Johnson was Terry Bristow of 121 N. Twelfth St., Monmouth, and his passenger was Linda Miller of 213 S. Third St., Monmouth.
Joseph Meredith was born Nov 18. 1940 at Bruceville, Ind., son of Mr. and Mrs. Esker Meredith. He had lived in Cameron for IS years and was graduated from Galesburg High School in 1959. Meredith attended the Christian Church in Cameron.
Surviving are his parents, four sisters, Mrs. Elsie Strahlman of Galesburg, Bessie, Pearl and Virginia Meredith, at home, a half-sister Ruth Kunkle, and a half-brother, Floyd Kunkle of Elmwood. The maternal grandparents, Mr. and Mrs. Pleas Meredith of Cameron also survive.
Funeral services will be Monday at 2 p.m., at the Turnbull Funeral Home, with burial in the Silent Home Cemetery at Cameron. Friends may call at Turnbull Sunday and Monday. The family will be at the chapel Sunday from 7:30 to 8:30 p.m.
An inquest will he held Later, according to authorities.
Burial:
Silent Home Cemetery
Cameron
Warren County
Illinois, USA
Plot: Section D