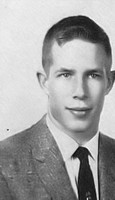 ROBERT W MILLS
GALESBURG - Robert W Mills, 47, Tucson, Ariz., formerly of Galesburg, died Tuesday.
He was born in Galesburg on Nov. 30, 1941. He was the son of Coke and Gene Mills. He married Sandra Kay Morrison.
Surviving are his wife, his parents, in Knoxville, his great-grandmother, Florence Mills, Tucson. Ariz, one
brother, Douglas C Mills, Champaign, one sister, Ginger Baxter, Knoxville, and four nephews.
He was graduated from Galesburg High School in 1959, and from the U S Naval Academy, Annapolis, Md., in 1963.
He and his wile moved m 1972 to Urbana, where he worked on a doctorate in industrial engineering at the University of Illinois.
He was a loan officer at Busey Bank, Urbana. and later was elected president of First National Bank,
Rantoul. He was president of First Arlington National Rank, Arlington Heights, from 1977 to 181. He founded SKOR Inc., which owns a travel agency and provides accounting services for travel agencies.
Funeral will be Friday at 3 p.m. in Evergreen Mortuary, Tucson.
The family said memorials may be made to University of Arizona Foundation-University Heart Center, 1501 N. Campbell Ave., Room 2223, Tucson, Ariz. 85724.