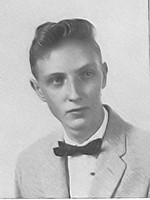 Gerald "Leon" Qualls
Gerald "Leon" Qualls, 58, 1036 1/2 Broadway, Quincy, died Tuesday, July 18, 2000 at 10:21 am in Blessing Hospital.
He was born January 23, 1942 in Jackson County, Illinois, the son of Amos E. and Lucevia Kimzey Qualls.
He was 1959 graduate of Galesburg Senior High School, and he served in the US Navy Reserve. He was sales manager for Achievement Industries for 12 years in Monmouth, IL.
Survivors include a daughter, Sheila Garrison and her husband Brad, Albuquerque, NM; a brother, Lavern D. Qualls and his wife Mary, Henderson, IL; 3 sisters, Alberta McCoskey and her husband George, Barnett, MO; Regina Butler and her husband William, Red Bud, Illinois; Priscilla Morrison and her husband William, Quincy; Several nieces and nephews; Peggy Litt and her husband Ted; Susan Kathmann and her husband Tim; Pamela Rein and her husband Mike; Judy Graham and her husband Gary; Mark Morrison; Kathy Steinbrecher and her husband Don ; Cynthia Brink and her husband Al; Paul Morrison and his wife Heidi, all of Quincy and numerous other nieces and nephews. He was preceded in death by his parents and a brother Edward.