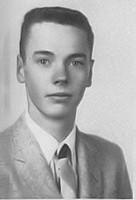 ELDEN W. SILVEY, JR.
Funeral services for Elden W. Silvey Jr., I8, of 1443 Clark St., who was killed in an auto accident Sunday morning, were held today at 10:30 a m. in the First Christian Church. Rev. James Smith officiated.
Mrs. Everett Eager was soloist, and Duane Noecker and George Scofield appeared In a vocal duet, accompanied by Mickey McCullough, organist.
Burial was in Oak Lawn Me­morial Gardens. Active pallbear­ers were Tom Pearson. Dennis Sundberg. LaVerne Landon, Rich­ard Hogan, Wendell Van Fleet and Mike Van Meter.
Honorary pallbearers were Ger­ald Foster, Jack Hall, Tom Welch, Fred Foster, Jim Arnold, Paul Taylor. Ray Armstrong. Mickey Hillier and Howard Findahl.
19 Highway Deaths; Worst Near Alexis
By LEO SULLIVAN
A Warren County highway crash claiming the lives of three Galesburg teen-agers proved to be the worst Labor Day weekend traffic accident in Illinois, which counted at least 19 dead during the 78-hour period.
The two-car crash Sunday about 3 a. m. on the blacktop road 2 1/2 miles south of Alexis snuffed out the lives of Elden W. Silvey, the son of Mr. and Mrs. Eldon W. Silvey, 1443 Clark St., who would have been 19 years old today; Gloria Margaret Er­win, 16, and her sister Mary Jean 13, daughters of Mr. and Mrs. Harry F. Erwin, 285 W Losey St.
In the second car was Richard K. Hart, 19, of North Henderson, who received a broken Jaw, a broken arm and two broken legs.
The cars crashed head-on. Silvers death was listed as instantaneous. The two girls died en route to Monmouth Hospital in ambulances, according to an inquest verdict; Hart was taken to Monmouth Hospital also but was transferred to University Hospital in Iowa City for exten­sive bone surgery.
No Witnesses
There were no actual witnesses to the collision, it was stated at the inquest conducted Sunday afternoon at McKnight Memorial Home in Alexia by Dr. J. O. Firth, Warren County coroner.
Vergil Fry of Alexis was travel­ing about 1 1/2 miles behind the northbound Hart auto, while Bob Bollinger of Galesburg was about the same distance back of the southbound Silvey car. Fry testi­fied that all he could see was smoke. Bollinger, who was not at the inquest, said the same thing Sunday morning at the scene. Bol­linger went to a nearby farm resi­dence to summon aid, and Fry went into Alexis and notified Mar­shal Warren Demick.
State Trooper William Ritter of Monmouth, who was summoned from his home, told the jurors that the Silvey car was on the west shoulder, completely off the blacktop and headed in a southeasterly direction. The Hart car, he said, was on the blacktop facing the Silvey auto in a northwesterly direction.
Drove to Cool Off
The accident took place within an hour after the three youths left the Erwin home on a ride to cool off. Gloria Margaret was returned to her home between 1:45 and 2 a.m., by a brother, from a babysitting assignment. At the same time Silvey and Mary Jean, returned to the Erwin home and the three left on the ride which ended in a triple tragedy.
Demick said the three youths left the Alexis business district at 2:55 a.m., after asking him directions to the blacktop road leading to Galesburg. Silvey, he said, was driving when they left Alexis, with one girl in the front seat and one in the rear seat of the two-door auto. He later went to the accident scene and identified the boy and two girls as the three who bad left Alexis minutes earlier.
The trooper said Hart was partly in and partly out of his car when he reached the scene. Ambulance attendants, in an earlier report, said Silvey was in the back seat of his car, jammed in the corner, with his head thrown back against the glass. Gloria Margaret was under the steering wheel and dash, while Mary Jean was lying across the movable and twisted portion of the front seat.
Shock and hemorrhage caused all three deaths, the coroner's jury ruled. Silvey's fatal injury was listed as a large wound in the chest which punctured his lungs. His death was fixed as in­stantaneous in Spring Grove Town­ship, Warren County. Gloria Mar­garet Erwin suffered a broken neck and skull fracture, while Mary Jean received crushing chest injuries, according to the jury ver­dicts.
Dr. Firth said he examined Mary Jean at the hospital at 5:15 a.m. and in his opinion she-died about 4:15 a.m. In Monmouth Township in route to the hospital. His examination of Gloria Mar­garet was at 5:20 and his opinion was that she died about 4:20 a.m., also in Monmouth Township, in route to the hospital.
Funerals Scheduled
Funeral services for young Silvey will be conducted Wednesday at 10:30 a.m. in First Christian Church and burial will be in Oak Lawn Memorial Gardens. Friends may call this evening at the Hinchliff and Pearson Funeral Home.
Services for the Erwin sisters will be conducted Thursday at 10: 30 a m. in First Lutheran Church and burial also will be in Oak Lawn Memorial Gardens. Friends may call Wednesday eve­ning at the Hinchliff and Pearson Funeral Home. Friends may contribute to a memorial fund in memory of the two girls.
Born in Galesburg
Elden Wolfe Silvey Jr. was born Sept. 6. 1941, in Galesburg and had resided four years in Rock Island and 15 years in Galesburg. He was graduated from Galesburg High School in June 1959, and for the past year was employed at Admiral Corp. Just last Saturday, he announced his decision to enroll at Southern Illinois Univer­sity, Carbondale. He participated |in intramural athletics and had won a district award in drafting. He was a member of First Chris­tian Church.
Surviving, besides the parents, are a sister. Sandra Luetta Silvey, at home; his maternal grandmother, Mrs. Edith Hatfield of Gales­burg, and the paternal grandparents, Solon and Atha Silvey of Lewistown, Mo. with whom his parents were visiting at the time of the accident. The parents and grandparents returned to Galesburg later Sunday
Girls Galesburg Natives
Gloria Margaret Erwin was born July 11, 1944, in Galesburg, where she attended Bateman School and George Churchill Jun­ior High School before entering Galesburg High School, where this year she would have been a junior. In high school, she was a member of the Girls Service League.
Mary Jean Erwin was born Oct 22, 1946, also in Galesburg. She attended Bateman School and George Churchill Junior High School, where she would have been in the ninth grade this year. In seventh grade, she was a 4-H Club member and a member of the Girls Athletic Assn. Last year, she was a member of the March­ing Club, the Student Council and the Future Homemakers Chapter. As an FHA member, she was a delegate late in July to 20th an­nual state leadership conference at East Bay Camp, Bloomington.
Surviving the two sisters, be­sides the parents, are two broth­ers, James F. of Henderson and John A. of Galesburg; three sis­ters. Sharon C. at home, Mrs. Lee (Betty) Odell of Staunton, Va. and Mrs. James (Pauline) Mammey of Galesburg: the maternal grandmother, Mrs. Anton Johnson of Galva, four nieces and four nephews.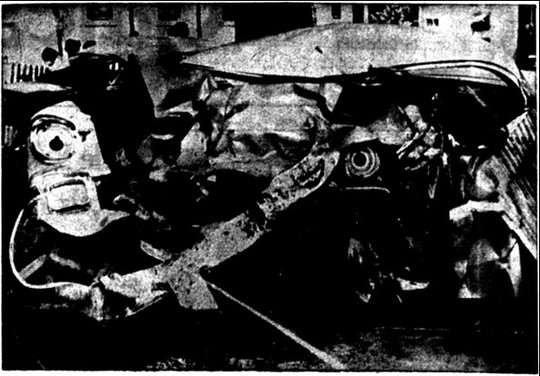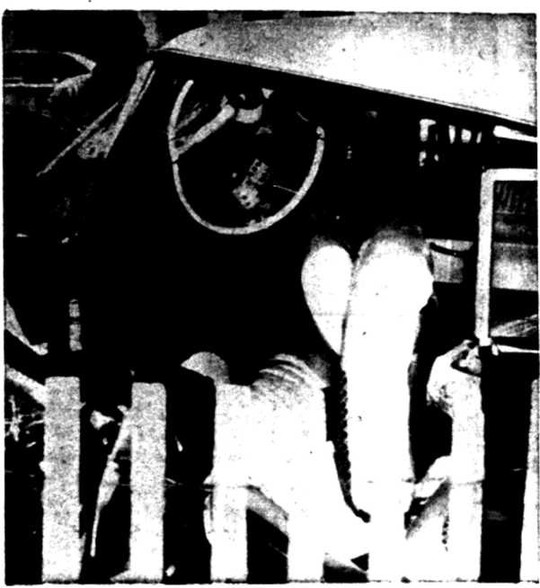 CARS—At the top is the 1956 model car which early Sunday morning carried three Galesburg youths to their death in a head-on collision with the 1954 model car (bottom) on the 8-mile blacktop road 26 miles south of Alexis. Killed in one car were Elden W. Silvey Jr, 18, of 1443 Clark St., the driver, and two sisters Gloria Margaret Erwin, 16, and Mary Jean Er­win 13, of 285 W. Losey St. (Galesburg Register Mail photos by Phil Turney.)