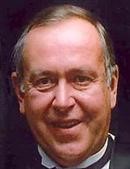 FRANKFORT, Mich. - Robert Thomsen Way, D.D.S., 73, of Frankfort, Michigan, and Bonita Springs, Florida, died peacefully on July 18, 2014.
He was the son of the late Dorothea and Robert McCabe Way of Galesburg, Illinois. Tom was educated in the Galesburg public schools and graduated from the University of Iowa in 1965 with a B.A. and D.D.S. from the College of Dentistry. He received awards from the International College of Dentistry and the American Association of Endodontists for proficiency and professional growth. Tom was a member of Phi Delta Theta and Delta Sigma Delta.
After graduation he served two years in the U.S. Navy as a lieutenant at the San Diego Naval Training Center and aboard the U.S. Navy destroyer tender USS Isle Royale in the Pacific. In 1968, Dr. Way began his dental practice in Midland, where he resided for 30 years. He was a member of St. John's Episcopal Church, Big Brothers Big Sisters Organization, Midland County Dental Society, Classic Car Club of America, MG T. Register of New England, and the National Hot Rod Association. He was also a member of the Congregational Summer Assembly in Frankfort, and the Fishing, Bocce, and Bonita Bay Clubs in Bonita Springs, Florida.
Long standing interests were classic car and hot rod car restoration for personal pleasure and competition, and fishing on Lake Michigan, Crystal Lake, and the backwaters of Sanibel and Pine Islands in the Florida Gulf. Upon retirement, Tom and his wife, Jana, moved to Crystal Lake, Frankfort, and to Bonita Bay, Bonita Springs, Flordia, where he enjoyed rewarding years with family and friends.
Tom is survived by his wife, Jana B. Way; son, Christopher Way and his wife, Michelle, grandchildren, Peyton, Brody, and Elin of Cincinnati, Ohio; daughter, Shannon Way and her husband, Martin, grandchildren, Madeline, Sybil and Claire of Denver, Colorado.
Tom is also survived by a sister, Martha Dapagny and her husband, Jack, of Granby, Colorado. He was predeceased by his sister, Susan Way Liston of Arizona.
A memorial service will be at 10 a.m. Aug. 16, 2014, on the Knoll overlooking Crystal Lake at the Congregational Summer Assembly, 2128 Pilgrim Highway, Frankfort, MI 49635. Memorial contributions may be made to the Congregational Summer Assembly.