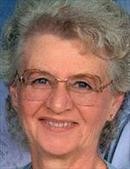 KNOXVILLE - Charlotte Fielder, 75, Knoxville, died at 4 p.m. Sunday, March 13, 2016, at the Robert E. Owens Hospice Home in Peoria.
She was born May 19, 1940, in Galesburg, the daughter of Everett and Margaret Johnson Rees. She attended and graduated from Galesburg High School in 1959. She married Philip R. Fielder on March 27, 1976, in Galesburg.
Surviving are her husband, Philip Fielder of Knoxville; one daughter, Kelly J. (Andrew J.) Aloian of Davenport, Iowa; one sister, Joan Woods of Oneida; and many nieces and nephews. She was preceded in death by her parents; two sons, David Ross Fielder and Mark R. Elledge; and three brothers, Robert A. Rees, Donald E. Rees, and Harold Rees.
She was a beautician for many years, working out of her home, and then worked clerical for the Knox County Courthouse and F&M Bank.
She was a member of First Lutheran Church in Galesburg, VFW Ladies Auxiliary and did volunteer work for the VFW. She was a very talented watercolor artist and was taught by Jane Lundquist, where she met many friends. She donated one of her pieces to the VFW. She enjoyed her "Playday Girls" spending time over coffee and lunch. She loved gardening, her flowers, bird watching, her home and the many views from her windows. She also loved to play bingo.
Cremation rites will be accorded with Hurd-Hendricks Funeral Home and Crematory in Knoxville. A celebration of life will be 2 until 5 p.m. Saturday, March 19, 2016, at Hurd-Hendricks Funeral Home Fellowship Center in Knoxville. Memorial contributions can be made the VFW Ladies Auxiliary, or to St. Jude Children's Research Hospital , Peoria Chapter, or the donor's choice. Online condolences can be made at www.hurdhendricksfuneralhome.com.