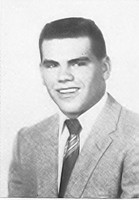 OSSEO, Minn. - Larry Dean 'Butch' Finch was born to Dean and Dorothy (Peters) Finch on Sept. 18, 1941, in Galesburg, Ill. He attended schools in Galesburg and graduated in 1959 where he was active in athletics, excelling in football and baseball. He married his high school sweetheart, Adale (Addie) Lauver on Aug. 15, 1959, at First United Methodist Church in Galesburg.
Larry and Addie moved to Minnesota in 1964 with their four small children. They have lived in the same house in Maple Grove since October 1964. He retired from Leef Bros. Laundry as a driver/salesman and after a 'year off' returned to work part time at Park Center Senior High. In the years of 'growing up' with the kids, Larry participated in athletics as a player and a coach. He became well known in the 'softball world' and was coach of the Osseo Legion Baseball team, where many young men came to be his close friend. He also made friends with many as a coach of youth football and as a 'fan' while watching his children and grandchildren participate in various sports.
Survivors include: his wife, Addie; sons, Jim (Lori) of West Allis, Wis., and Jeff (Toni) of North Aurora, Ill.; daughters, Jane (Roy) Tom of Big Grassy, Ontario, Canada, and Joanne (Denny) Belisle of Andover, Minn.; 14 grandchildren and 11 great-grandchildren; sisters, Nancy Herrin, Sharon (Larry) Riner, Sandi (Bob) McGovern, Cathy (Joe) Losos, and Lori (Kevin) Carr; numerous nieces and nephews and multitudes of friends. Mother-in-law, Ruth Lauver; and brother-in-law, Richard (Lorna) Lauver. He was preceded in death by his parents; brother-in-law, Bill Herrin; father-in-law, James W. Lauver; and great-granddaughter, Georgianna Hicks.
A celebration of Larry's life will be at 7 p.m. Thursday, June 26, at Osseo United Methodist Church. Visitation will be 4 to 7 p.m. Thursday at the church.