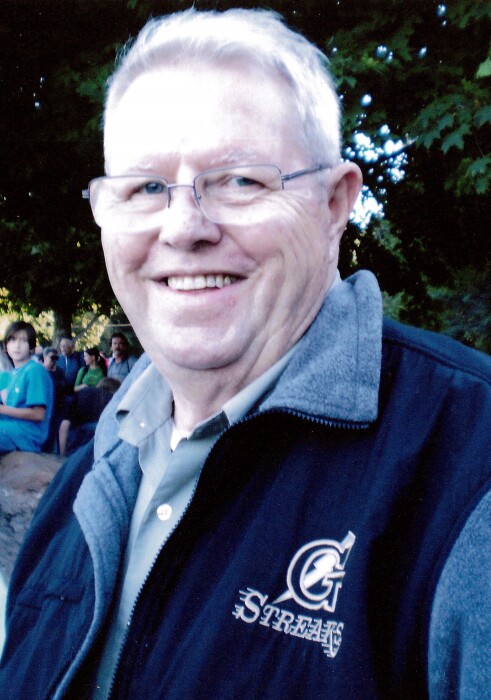 Mr. Darrell Edward Fields was born April 10, 1941 at St. Mary's Hospital, Galesburg, IL to George and Edna Fields. He was raised in and around the surrounding farming area. As a young man he worked at different odd jobs before he graduated from Galesburg High School in 1959. After graduation he resided in California for 2 years working in an orange juice factory before returning to Galesburg. He drove a lumber truck for Leo Gale working out of Wickes Lumber Company. For his career Darrell worked for the CB&Q Railroad as a switchman and later for the Burlington Northern Santa Fe Railroad as a brakeman, conductor and engineer for 37 years. As a young man he enjoyed bowling, fishing & hunting.
He married Sharon Colleen Thompson Nov. 10, 1963 at 1st Christian Church in Galesburg. They resided in Galesburg for several years before moving to Henderson, IL to raise their family. Darrell is survived by his wife, his daughter, Elizabeth (Todd) Marske of Wheaton, IL, sons, Paul (Kristin) Fields of Dunlap, IL. Ronald (Rebecca) Fields of Savoy, IL. 8 grandchildren, Erica Marske of Cleveland, OH, Stewart & Ingrid of Wheaton, Benjamin Fields of Lombard, IL, Alexander & Abigail Fields of Dunlap, Rachel Fields of Carbondale, IL and Leah Fields of Savoy. Two sisters, E. Louise Green of Moline, IL, Candace (Loren) Swihart of Lynn Center, two brothers: Ronald (Maureen) Fields of Great Mills, MD, and Fredrick (Linda) Fields of Columbia, MD. Many cousins, nieces and nephews remain. He was preceded in death by his parents, 2 sisters, Patricia Ann & Silver Christine and brothers Michael Fields and W. Dale Fields.
He was a member of 1st United Methodist Church in Galesburg. A Master Mason, who held several positions with in the lodge as well as being the Master in 1992. Joined the Scottish Rite in 1980. For 37 years he served the Henderson Cemetery Henderson, IL as trustee and clerk/treasurer.
Darrell liked to be outside & to build. Gardening, building houses and garages were like 2nd nature to him. Darrell & Sharon liked to travel mainly to the east and west coast. When he retired in 2002, they wintered in Orange Beach, AL. He enjoyed playing pinochle, Sudoku and reading books especially James Patterson. Then there was wine making. Picking black raspberries for mom's pies was his favorite. Later in retirement Darrell and Sharon labored over various berries turning them into award winning wines that family, friends and the kids enjoyed. Watching Coach Massey's Girls' basketball was one of their shared past times long after their kids graduated.
Favorite Bible verse – Psalm 23, and Apostle's Creed
Due to social distancing limitations related to the COVID-19 pandemic, a memorial service will be held at a future date at the First United Methodist Church. Cremation will be accorded. Private Family interment will be held in the Henderson Cemetery. Memorials may be made to: Chaddock Children's Home (Methodist Church), OSF Hospice. Hinchliff-Pearson-West Funeral Directors and Cremation Services Galesburg Chapel is assisting the family with arrangements. Online condolences may be made at www.h-p-w.com